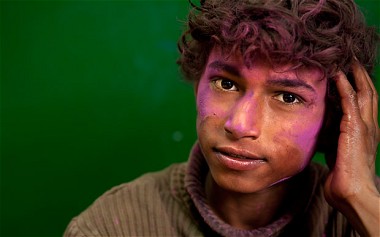 Image Credit: IANS
Manan Chaturvedi painting in Jaipur to support the 88 street children in her care.
Jaipur: Painting for 72 hours straight, Manan Chaturvedi is trying to colour up with her brushes the lives of 88 children that she has found abandoned across the city over the past few years.
Bracing the chilly cold nights at Statue Circle, a popular hang-out in this Rajasthan capital, the 39-year-old who shunned her fashion designing ambitions to take care of the street children has been painting various shades of life since Saturday afternoon.
These paintings will later be auctioned to garner money for her NGO — Surman Santhan -for such children.
"I will keep painting till 3pm January 1. People have told me I might be setting a world record for painting continuously for so many hours. However, it has little to do with setting the world record," Chaturvedi, a mother of three, said.
Till 9am Monday she had completed 71 paintings and plans to add another 90 to 100 to this tally by January 1 afternoon.
So, what set her on this unique task?
"I want to raise awareness among people about what being homeless means for the children who are abandoned by their parents. I am raising 88 of them at my house and I know how they feel," Chaturvedi said.
She said that she is just trying to depict the feelings of peace and harmony that these children have taught her.
"I have named my initiative The Angel of Love. It aims at spreading the same feeling of peace and harmony across the world. After completing 72 hours in Jaipur, such painting sessions will be held across the country and some locations abroad," Chaturvedi said.
Chaturvedi would probably have become a top fashion designer earning fabulously and living in style. Instead, she dumped a promising career midway and turned to Jaipur's street children to give them a new life.
She picked up the children — aged between six months and 18 years — from railway platforms, pavements and even dustbins, legally adopted them and brought them all to her house in Jaipur's Vaishali Nagar area.
The children have now grown up calling her 'maa' (mother).
Under the banner of her NGO Chaturvedi has found ways to raise the much-needed money.
She paints and organises painting exhibitions. The money thus raised goes into the children's education and other expenses.
After completing a course in fashion designing from Delhi eight years ago, Chaturvedi got off a bus at Sindhi Camp bus stand in Jaipur. She came across a girl lying among the garbage and this changed her whole approach to life.
She said that when she saw the half-naked girl, she wondered: "What's the use of becoming a fashion designer?"
"I wondered for whom I will design clothes when half the population in this country goes about without them," she said.
Her own children have no privileges over the others.
Initially, Chaturvedi's family had some reservations about her mission, but they started supporting her when they saw how determined she was. Her husband Surendra Chaturvedi now works with his wife for her NGO. He is constantly there at Statue Circle to provide support to her.
"I design clothes for them and have learnt the craft of painting over the period. That's how I manage to run my little family…"